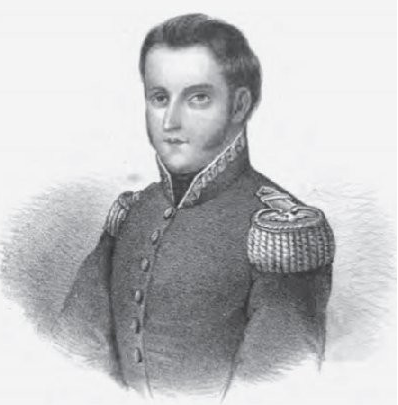 General José Manuel Rafael Simeón de Mier y Terán
José Manuel Rafael Simeón de Mier y Terán (1789–1832), was born in Mexico City on February 18, 1789. He graduated from the College of Mines in Mexico City in 1811 and showed talent in mathematics and engineering; he soon joined the cause of Mexican independence under José Morelos. As a lieutenant colonel, he fought under Ignacio Rayón and captured Puebla. In 1814, he besieged the Royalist forces at Silacayoapan in Oaxaca; although unsuccessful, the campaign elevated him to colonel. He failed in an attempt to become leader of the rebels and, after seeing combat in Puebla and Veracruz, surrendered to Royalist forces at Tehuacán in 1817. In 1821, Colonel Terán returned to active service and joined the Army of the Three Guarantees under General Nicolás Bravo.
With Mexico finally independent, he served in the first constituent congress in 1822 as the representative of Chiapas and served as a member of the committee on colonization of unoccupied lands. In February 1824 he married Josefa Velasco de Teruel then earned promotion to brigadier general in 1824, serving nine months as minister of war.  He then served as State Inspector at Veracruz, part of a Mexican mission to England, and director of the Mexican School of Artillery until 1827. That year President Guadalupe Victoria named him to lead a scientific and boundary expedition into Texas to observe the natural resources and the Indians, to discover the number and attitudes of the Americans living there, and to determine the United States-Mexico boundary between the Sabine and the Red rivers.
General Mier y Terán headed north as the head of the Comisión de Límites (Boundary Commission) in company with mineralogist Rafael Chovell, botanist and artist Jean-Louis Berlandier, and cartographer José María Sánchez y Tapía. Traveling in a coach inlaid with silver over muddy roads, he reached Béxar on March 1, 1828, moved on to San Felipe de Austin on April 27, and arrived in Nacogdoches on June 3. The expedition concluded its work January 16, 1829. His report stressed that resisting United States expansion would require additional garrisons and increased trade. He also encouraged more Mexican and European settlement, in lieu of more Americans.
These recommendations led to the law of April 6, 1830, which closed the borders to (legal) immigration from the U.S. and profoundly changed the relationship between Anglo-American settlers and Mexico.
General Mier y Terán returned to Mexico just in time to serve as second in command to Santa Anna during his action at Tampico against the Spanish invasion of 1829. Their success made them both national heroes and General Terán emerged a strong candidate for president lost lost his chance when Vicente Guerrero rose to the office. The next year, another coup elevated Anastasio Bustamante, who named Mier y Terán as his commandant general for the northeastern provinces, giving Terán military and civil authority over the provinces of Coahuila y Tejas, Nuevo León, and Tamaulipas.
Headquartered at the recently renamed city of Matamoros, he traveled by ship to Galveston Bay in November 1831, to review the port of Anahuac and install new customs agents. With the prospect of renewed civil war in Mexico and growing difficulties in Texas, Mier y Terán's health declined and he lapsed into a severe melancholy. Following a Federalist victory near Matamoros on July 3, 1832, the general committed suicide, falling on his sword in the church of Padilla, Tamaulipas, the same location where Emperor Agustín de Iturbide had been executed in 1824.
Adapted from: